Archives for : January2010
Il video é tutto completamente in CGI e lo trovo spaventosamente reale.

Per gli scettici c'é anche il making of.

Negli ultimi mesi si é parlato spesso della qualità  del nostro giornalismo, pessimo senza dubbio, pieno di conflitti d'interessi, con aziende e banche che ne sono proprietarie, senza parlare poi del nostro caro smemorato di Arcore che di giornali e televisioni ne controlla parecchie. Ma se guardiamo all'estero é veramente tutto meglio?
Light Writing Proposal from Derick Childress
The most common question so far about the proposal video is "How did you do it?"  The technique is most commonly known as 'light writing.'  A light source is moved (in this case, a 3 million candlepower spotlight) while the shutter of a DSLR camera is left open, creating a streak of light in the final exposure.
Direttamente dal balcone di Eirik Solheim (che si affaccia sul parco di Oslo).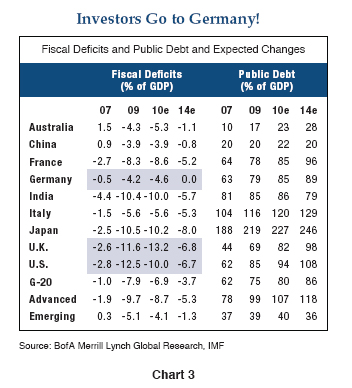 Gli Stati Uniti hanno un deficit del 12% e per finanziarlo hanno bisogno di 1500 miliardi di nuovo debito pubblico. La Cina si é accaparrata una piccolissima fetta di questo debito, tramite titoli di stato, per circa 100 miliardi di dollari. Altri 200 miliardi di dollari sono stati investiti da altri stati. Circa l'80% del restante debito sta praticamente per essere preso in mano direttamente dalla Federal Reserve. Che gli Stati Uniti siano oramai con le pezze al culo é abbastanza chiaro, ma la domanda che dovrebbe far pensare é: Ma dove sono finiti gli investitori?