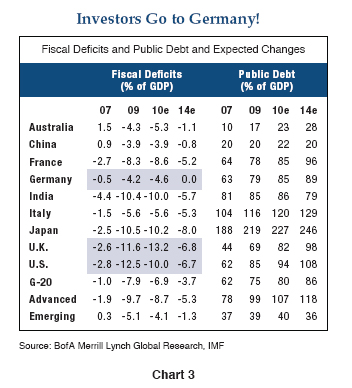 Gli Stati Uniti hanno un deficit del 12% e per finanziarlo hanno bisogno di 1500 miliardi di nuovo debito pubblico. La Cina si é accaparrata una piccolissima fetta di questo debito, tramite titoli di stato, per circa 100 miliardi di dollari. Altri 200 miliardi di dollari sono stati investiti da altri stati. Circa l'80% del restante debito sta praticamente per essere preso in mano direttamente dalla Federal Reserve. Che gli Stati Uniti siano oramai con le pezze al culo é abbastanza chiaro, ma la domanda che dovrebbe far pensare é: Ma dove sono finiti gli investitori?
Seguendo i dati Merril Lynch molti stanno comprando titoli di stato in Germania e Regno Unito. Per quel che riguarda la Germania, il deficit pubblico é stato in sostanza azzerato ma se gli investitori dovessero decidere di andare via e rivendere i titoli di stato che cosa potrebbe succedere? Paranoia o una nuove bolla sta per esplodere?
Additionally, if exit strategies proceed as planned, all U.S. and U.K. asset markets may suffer from the absence of the near $2 trillion of government checks written in 2009. It seems no coincidence that stocks, high yield bonds, and other risk assets have thrived since early March, just as this "juice" was being squeezed into financial markets.